Commercial paint from Columbia Paint and Wallcover brings superior color and performance to businesses, schools, hospitals, and other industrial spaces in our community. Our selection of industrial coverings protects wood, steel, floors, and equipment from rust, corrosion, and wear while maintaining a spectacular sheen and color for years to come. Columbia Paint and Wallcover is proud to be a certified dealer of Benjamin Moore® products, providing our clientele with top-of-the-line professional paints that make even the most daunting of projects go smoothly.
Columbia Paint and Wallcover works with local professionals and contractors to complete commercial jobs in the community. Our Benjamin Moore® products are some of the highest quality and most trusted commercial paints in the industry. Whether your job needs professional prep work, industrial primer, durable exterior paint, or a rust-resistant coating, we have the experience, supplies, and tools that make every project a credit to a professional's portfolio.
Industrial Paint Selection
Commercial paint is engineered to protect all kinds of surfaces in all kinds of environments. Direct to metal industrial primers not only seal and prepare surfaces like conventional primer, but have additional benefits like rust and corrosion resistance that keeps paint color fresh and metal protected. Some paints are developed specifically for the construction industry, others for places of high traffic. Nonetheless, industrial paints should be durable enough to withstand the surrounding environment, whether it be in a school, office building, or construction site, and aid in creating hospitable interiors for work and other activities. Some examples of commercial coverings from Columbia Paint & Wallcover are:
Corotech® High Performance Coatings
Corotech® coatings are a line of industrial coatings meant for professional painters. Corotech® products can be used on a range of surfaces, including steel, concrete, brick, and drywall, and consist of waterborne and alkyd primers; waterborne, alkyd, and specialty enamels; epoxies; urethanes; as well as cleaning, solvents, and specialty products.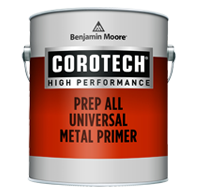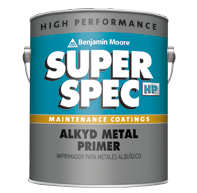 Primers are essential to ensuring exceptional color and protection for a finished project. The Super Spec® Alkyd Metal Primer is an industrial primer that adheres well, hiding surface imperfections and allowing for faster recoat time in order to prepare your project for its next steps.
Super Spec® Alkyd Gloss Enamel is a hardy enamel coating that prevents rust and abrasions. It  is dry to the touch in under two hours.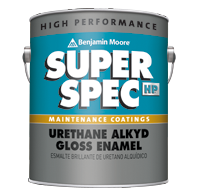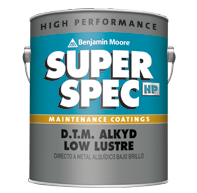 Super Spec® maintenance coatings can be directly applied to metal surfaces thanks to their self-priming capabilities. They protect interior and exterior surfaces from unattractive and damaging rust, and come in a low luster and semi-gloss sheen with your choice of custom color.
Ultra Spec® HP D.T.M. Acrylic Enamels
Ultra Spec® HP D.T.M. Acrylic Enamels are rust and corrosion resistant for attractive steel, aluminum, and galvanized metal, and for structural steel, wood, masonry and equipment. It comes as a primer or a low luster, semi-gloss, or gloss sheen that dries fast for quick project turnover times.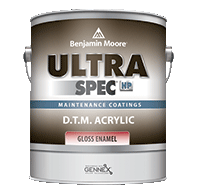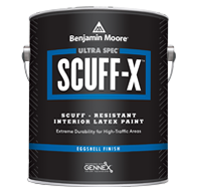 Ultra Spec® SCUFF-X® Interior Latex
Ultra Spec® SCUFF-X® Interior Latex has been specially developed to withstand high-traffic in commercial spaces. Its spatter resistance makes it easily applied, and once dry it requires minimal maintenance with easy touch-up. It performs well in schools, hospitals, stores, and other commercial and industrial spaces that see high volumes of activity.
Ultra Spec® Masonry Acrylic Latex Satin
The Ultra Spec® Masonry Acrylic Latex Satin smooths cinder block, concrete, brick, and masonry surfaces in both exterior and interior settings with a one-coat application and appealing satin finish.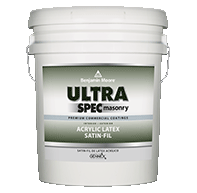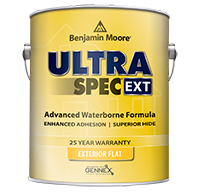 Ultra Spec® EXT Paint is a professional exterior paint meant for contractors, facility managers, and property managers. It dries fast with a hardy film that hides imperfections and resists mildew, fading, and peeling. It can be easily applied even at low temperatures for a longer painting season. Its flat, low luster, satin, and gloss finishes are low VOC in all colors.
Benjamin® Moore Professional Line of Prep Products
The Benjamin Moore® portfolio of prep products are cost-effective, material-effective solutions for large commercial projects. The Benjamin Moore® Block Filler can be sprayed, brushed, or rolled for smooth masonry surface. Benjamin Moore® Latex Dry Fall in semi-Gloss, flat, and eggshell requires little surface preparation and settles as a dry powder great for interior ceilings, walls, and structural parts. Benjamin Moore® Knockdown provides a professional flat or satin textured finish to heavy-traffic buildings like hotels, offices, schools, and new construction. All together, Benjamin Moore® is sure to have professional contractors – and their projects – covered.
Columbia Paint and Wallcover has over 75 years of helping local painters and contractors complete jobs across east central Tennessee. Our full line of Benjamin Moore® products allows us to offer our customers the best in residential and commercial painting needs. See us in-store for additional information on our commercial paint offerings, or visit our website to learn more about our other paint and products. We are ready to advise and supply our customers with all their paint and decorating needs in Columbia, Maury County, and the greater Nashville area, TN.